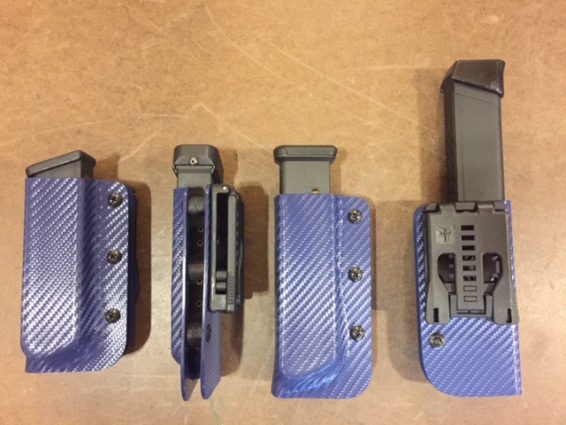 Product Description
Tired of those big sticks not working well in your regular mag carrier? Is your PCC game suffering because your reloads are not as efficient as they could be? Ares Tactical's PCC mag pouch is just what you have been looking for. This is a evolution of our well regarded Competition Mag Pouch.
No longer will you have to worry if your magazines will stay  in place on a stage with movement. No more 33 round mags be jacked up into your armpits. These are designed to fully encompass a full size magazine such as the Glock G17. When you use extended mags such as the MagPul Pmag21 and 33 round happy stick will allow easy grasping of the magazine.
As of June 2017, we are only offering these for the Glock type magazines. Other magazine types will be added as demand dictates. Please feel free to contact us if you have a different magazine.
UPDATE: August 2017, we have now added Beretta M9/Model 92 and UZI 9mm magazines to the available options. We will continue to add more as you all request for our PCC Magazine carriers.
Two different mounting positions on your belt allow normal belt height or drop position allowing 1.5″ lower seating relative to the top of your belt. Three tension adjustment points go from gorilla grip to rattling bucket.
Multiple carry heights are possible with the standard Tek-Loc belt adapter. It fits belts up to 2.25 inches. A standard 1.75" belt allows six carry height adjustments that can be locked in.
Ares Tactical stock dozens of different colors, camo patterns, and textures such are carbon fiber. When ordering a single layer carrier use the Base color option. If you want a dual layer Kydex pouch the base will be inside and wrap will be the outer color.
Fatback is not available in the PCC Mag Pouch. Though, the current system will let you order it.
Don't forget to order your matching Competition Pistol Holster here. You might as well look good while you are winning.
Enjoy the best for your Pistol Caliber Carbine whether your compete in USPSA, IDPA, 2 gun, 3 gun, or outlaw matches.
You can always check out lead time on the FAQ Tab.
Additional Information
| | |
| --- | --- |
| Pistol Magazine | Beretta 92, Glock 17, Uzi |
| RIght or Left | Righty |
Only logged in customers who have purchased this product may leave a review.