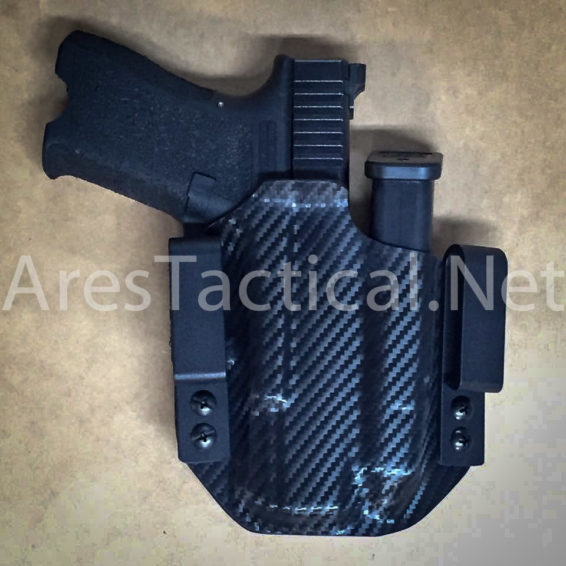 Product Description
Ares Tactical has made combination pistol and magazine IWB holsters for years by special order. There's a pretty consistent pattern that several Kydex holster makers use. Our wasn't that different in the basic design. We applied our critical eye on using the best materials and finishing, but essentially they looked and worked the same.
The new SideKick holster is a first in its design. It takes up less belt room than the traditional style making it far more versatile in where you place it. Most pistol and mag holsters are limited to carrying in the front or AIWB (appendix Inside-the-belt). The Ares Tactical SideKick is small enough that some users will be able to place it anywhere including the strong side 3 o'clock position.
The mag slot is built to handle full size magazines regardless of pistol size. Compact and subcompact magazines will fit deeper in the slot.
User adjustable tension screws for both the pistol and magazine. This allows you to custom tune the draw effort needed for the pistol and magazine individually.
Want even more versatility? Order the Ares Tactical SideKick Holster with UlitClips. These are a great upgrade and a most for those that need a secure IWB holster but don't wear a belt.
Mini FAQs:
1. Will the SideKick IWB holster work without a magazine? Yes, the SideKick is designed in a way that allows it to be used with or without a magazine placed in the slot.
2. Will this work with my Trijicon RMR (Burris Fast Fire, JP JPoint, etc.)? Generally, no. To keep the profile small we tuck the magazine slot close to the pistol. Some combinations of mini dot optics, mount, and compact magazines may work.
3. I see you make other holsters for my XDs 3.3 but not in the SideKick model. Why? The SideKick is made for many double stack pistols. Some double stack pistols and most single stack pistols do not work well with the intent of this design.
4. Is there an option for two or three magazines? No. Adding a second magazine substantially increases the relative size and severely restricts the versatility of the design. We recommend if you want to carry more magazine to get the Ares Tactical IWB Single Mag Carrier.
5. What are the optional deep seat clips? They are just like the regular clips but longer allowing up to one inch deeper concealment.
Lead times and more FAQs can be found here.
Don't forget to check out our Ready Ship page with dozens of holsters and mag pouches already made.
Additional Information
| | |
| --- | --- |
| Pistol | Beretta Px4 Storm, Glock G17/G22/G31, Glock G19/G23/G32, Glock G26/G27/G33, HK P2000, HK P30, HK VP40, HK VP9, SA Mod2 9/40 5in, SA XD 9/40 4in, SA XDm 4.5, Sig P227, Sig P320 3.6in Subcompact NO Rail, Sig P226 No Rail, Sig P226 Rail, Sig P229 No Rail, Sig P229 Rail, Sig P320 3.9in Compact Carry, Sig P320 4.7 Full Size, Sig SP2022, S&W M&P 9/40 Compact, S&W M&P 9/40 Full Size, SA Mod2 9/40 4in, SA Mod2 9/40 3in, SA XD 9/40 Full Size, SA XDm 3.8, SA XDm 5.25, Taurus PT111 Pro G2, Walther PPQ 4″, Walther P99 Compact |
| RIght or Left | Lefty, Righty |
| Sweat Shield | Low, Mid, Full |
Only logged in customers who have purchased this product may leave a review.