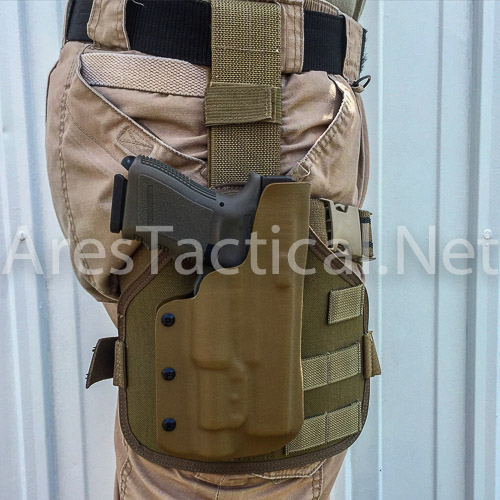 Product Description
Whether you call it a Thigh Holster, Leg Holster, or Drop Leg Holster they all free up belt space and provide extra clearance around body armor to access your pistol. It is also easier to draw from your support hand.
The Ares Tactical Thigh Holster is highly versatile. It is adjustable for ride height, including being able to remove the top strap. Both let straps feature rubberized strips that help prevent twisting or unwanted movement. Dual tension screw allow you to adjust the force needed to draw.
Addittional holsters can be ordered by choosing our Molle Holster and Molle Weaponlight Holster. We try to provide the highest level of flexibility and cost savings.
As with all our Kydex Holsters, the Thigh Holster is Made in the USA by veterans using parts and materials made in the US.
Additional Information
| | |
| --- | --- |
| Pistol | 1911 Govt 4in Rail, 1911 Commander 4.25in, 1911 Govt 4in, 1911 Govt 5in, 1911 Govt 5in Rail, Beretta 92 Brigadier, Beretta 92 FS, Beretta 92G-SD, Beretta M9, Beretta M9A1, Beretta Px4 Storm, CZ 75 SP01, CZ 75/85, Glock G17/G22/G31, Glock G19/G23/G32, Glock G20/G21, Glock G26/G27/G33, Glock G34/G35, HK P2000, HK P30, HK VP40, HK VP9, Para Ordnance P14, SA Mod2 9/40 5in, SA XD 9/40 4in, SA XDm 4.5, Sig P227, Sig P320 3.6in Subcompact NO Rail, Sig 1911 4.2inch, Sig P226 No Rail, Sig P226 Rail, Sig P229 No Rail, Sig P229 Rail, Sig P320 3.9in Compact Carry, Sig P320 4.7 Full Size, Sig SP2022, S&W M&P 45 Full Size, S&W M&P 9/40 Compact, S&W M&P 9/40 CORE, S&W M&P 9/40 Full Size, S&W M&P 9L CORE, S&W M&P 9L Pro, SA Mod2 9/40 4in, SA Mod2 9/40 3in, SA Mod2 45, SA XD 9/40 Full Size, SA XDm 3.8, SA XDm 5.25, SA XDs 3.3in, SA XDs 4.0in, Taurus PT111 Pro G2, Walther PPQ 4″, Walther P99 Compact |
| RIght or Left | Lefty, Righty |
| Thigh Panel Color | Black |
Only logged in customers who have purchased this product may leave a review.